Do you believe in a freer future for Africa? Are you passionate about liberty and want to learn about free markets and the ideas of a free society?
If you answered yes to all the questions above, this is for you!
It is without doubt that, in Africa, the concept of liberty has a long way to go.
Students For Liberty, in line with our mission to develop and empower the next generation of leaders of liberty, has been working on several projects to educate and intellectually empower future leaders of liberty in Africa, and across the world on issues pertaining to individual rights, free speech, entrepreneurship, as well as policy-making ‒ to mention just a few.
The SFL Academy project brings these resources together for easy access to all of Students For Liberty's educational materials and courses.

SFL Academy can be described as a one-stop shop for important libertarian content. It is a web-based training and learning program that affords students access relevant libertarian content and the ability to  test their knowledge of what they have just studied at no cost.
The Students For Liberty Academy project has been designed to replicate the conventional school system style of learning, yet has been infused with modern techniques and approaches to studying. This is inherent in the use of a web-based form of schooling that can be accessed using web enabled computers, laptops, as well as mobile devices. Cool isn't it?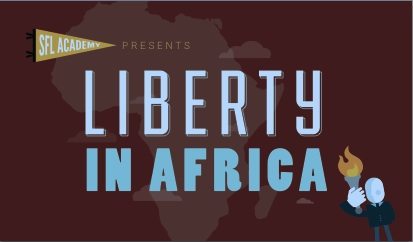 One course you can find on  SFL Academy is "Liberty in Africa." This course features a team of six experienced libertarians, such as Dr. George Ayittey, June Arunga, Kofi Bentil, Temba Nolutshungu, Olumayowa Okediran and Japhet Omojuwa. SFL has partnered with these individuals because they have distinguished themselves in their various professional fields as well as contributed immensely to the growth of liberty on the continent of Africa. This course addresses issues including, but not limited to, the history, principles, as well as the policy implications of liberty in Africa.

The course content includes; Socialism and African Culture, Colonialism, Rule of Law, Free Trade, Cronyism, Over-criminalization, Property rights, Entrepreneurship, Economic Growth, and Toleration.
Upon completion of the course, you will be well equipped to advocate or a freer African society, and will have the wherewithal to take on the task of changing Africa for the better.