SFL SUCCESS STORY:
Campus Coordinator raises funds to help students in Nigeria
---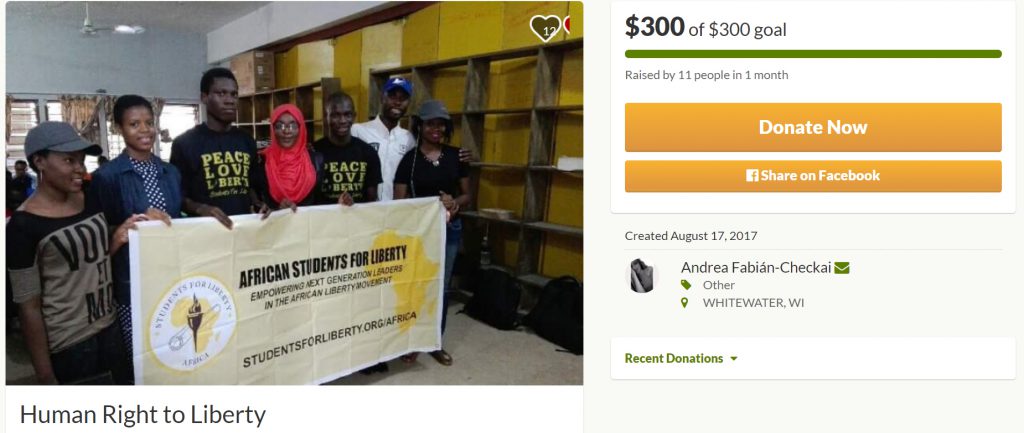 Andrea Fabian-Checkai, a Campus Coordinator at the University of Wisconsin – Whitewater, recently took it upon herself to start a fundraiser to benefit Students For Liberty's operations in Nigeria. Andrea successfully raised $300 from various individuals to help African Students For Liberty (ASFL) Local Coordinator, Duke Ifeakachukwu, cover various costs for their Human Rights Conference hosted this month.
Many students on Duke's campus in Nigeria have been expelled following outrageous occurrences and these students regularly face injustice. Once Andrea heard about this from Duke, she knew something had to be done. After the fundraiser had reached its goal, Andrea commented, "This fundraiser and its success is certainly one of my proudest accomplishments. I had never done anything like this and had moments of doubt, I didn't know if I could successfully pull off this fundraiser, and seeing that we had accomplished our goal well in advance left me speechless."
Andrea is passionate about helping others and said that she thinks "compassion and empathy are lacking in today's world," so she enjoys being able to brighten the world in her own way. Saying that "SFL has given me reassurance that what I aspire to accomplish is not only necessary, but very possible, and that is something I had previously struggled greatly with," she is driven to help others find their path, should they be open to the ideas of liberty but still struggling with finding their voice.
When asked about SFL, Andrea said, "My proudest accomplishment with SFL comes every day when people are unafraid to approach me and have conversations. SFL gives me the opportunity to reach out to people I never would have thought to reach out to, and help them in any way I can." She notes, "The biggest push for me was seeing that I wasn't alone in my love of liberty, that's truly when I embraced solely pushing ideas of liberty." Though libertarians sing the praises of individualism, we also know that it can be reassuring to know you're not alone and that sense of community helps to produce highly motivated student leaders such as Andrea.
---
If you want to support students like Andrea, please invest in liberty today.
It is tax-deductible and will change lives for the better!