African Students For Liberty is pleased to launch applications to this year's National Coordinators Program 2019/2020. The National Coordinators Program seeks to reward top-performing Local Coordinators from all over the continent of Africa to lead ASFL activities in their countries.
The National Coordinator will be the main point of contact for ASFL in their specific country or countries in the region. They shall work closely with Regional Directors in coordinating ASFL activities that include hosting events, identifying potential Local Coordinators and creating student groups for liberty.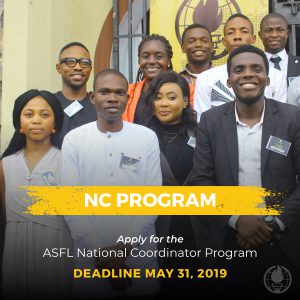 National Coordinators shall keep track of ASFL's growth in the country/region. They shall assist in communicating with our large network of LCs and ASFL chapter members on the SFL policies and guidelines that should be implemented, to maintain the high quality of events we have at SFL, identify high quality students to join the LC program and maintain our reputation of professionalism due to how we handle our activities and relationships with other organizations. National Coordinators will be required to attend the regular meetings and provide reports of SFL activities in their regions. They will serve as mentors on the ground, for Local Coordinators in their countries.
This top leadership role will give the selected National Coordinators increased knowledge, skills, and experience as an all-round leader for liberty. 
Do you have what it takes to be an ASFL National Coordinator? Apply today HERE. Deadline to apply is 31 May 2019.
If you have any queries, contact Oluwafemi (Femi) at: [email protected]