The following is an account of Students For Liberty Local Coordinator Irakli Iagorashvili's experience during the 2019 Georgia Protests. This is part of our Day in the Life series, where we feature real life accounts of what the fight for liberty entails for liberty lovers who are fighting for a freer future all over the world.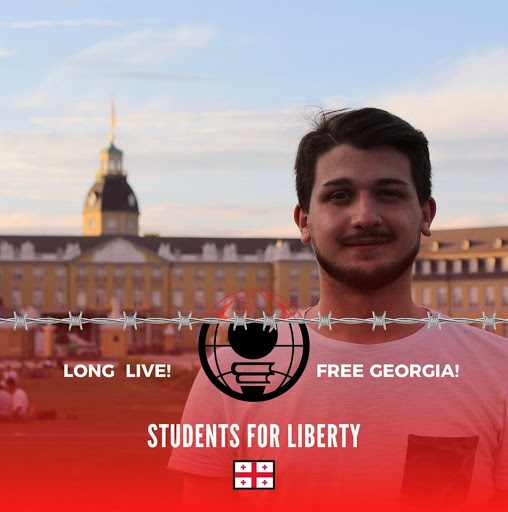 Why protest?
Since the second day of protests, the state has been using force against its own citizens. I asked myself: "Why am I participating in this dangerous demonstration?" 
I think my decision to participate is a personal one. Some people say that participating in such demonstrations is the duty of each citizen, but I do not think that any individual should have any obligations to the state. 
I don't like the word 'responsibility' and I dislike it even more if one is speaking about a citizen's 'responsibility' to the state. As citizens, we have only one obligation, and that is to respect other people's rights. 
The demonstration started on June 20th, 2019. That morning, I was informed that a Russian MP who is a member of the Communist Party sat in the speaker of our parliament's chair. 
I knew that this act could endanger my individual liberty, so I decided to go out and protest. Russia, to me, is a big threat. They occupy 20% of Georgia, and many citizens are unable to move back to their hometowns. 
Those who stayed in Abkhazia and Tskhinvali cannot live freely. Those who decided to escape have either died or continue to suffer from endless trauma, even today. 
Russia's Information Warfare
Moreover, Russia's information warfare has entered a new phase. 
The mental slavery that is inflicted upon us is a conditioning of the mind which makes you believe the treatment you receive is merited, thus leaving you with no will to fight for something greater. 
The rise of social media's influence has worsened this, and disinformation is preventing individuals from realizing how bad things actually are. 
It is no surprise that many are unaware of what's actually happening around them and thus fail to understand why European values are so important for our development as a democratic state. 
Russia has been trying to convince Georgians that liberty is not desirable and that it can make us poorer and negatively impact our society. Mental slavery forces us to look for enemies inside our own country (such as different minority groups), when in reality the real threat comes from the outside.
The Future of Georgia
I am concerned about the future of this country. 
I am going to continue to live here and I know that what happens here will definitely have an impact on my life. I would like to emphasize that I will never refuse my own interests because of the interests of my country. In general, I think that all people who are protesting have personal interests, but we refuse to recognize this, because 'selfishness' doesn't sound good to many people. We should never have to feel ashamed about wanting a freer future for ourselves.
Participating in these demonstrations is also a form of solidarity for those who have been oppressed by their government. However, my decision to join is the result of personal reflection. I've put myself in the shoes of the injured man, and am able to empathize with the feeling of loss that plagues so many of us. 
This feeling is similar to what we feel when someone dies, because we know that we have no future chance to be reunited with that person ever again. 
Personally, I feel that the state has three obligations to its people. Firstly, the state is obligated to protect us from each other, Secondly, the state is obligated to protect us from foreign threats, and thirdly, the state is  obligated to protect our property.
Now, imagine what would happen if the government chose not to fulfill these obligations? 
I am going to stand every day in front of the parliament as a citizen of this country. In the future, we have to eliminate the roles of government, make it smaller and empower individuals, because it is almost impossible to enslave citizens when we give them power. We cannot be free otherwise.
I want to live in a country where the government protects us, and where the constitution strongly defends citizens' rights. I want to live in a country where citizens are powerful and the government wouldn't dare to dishonor the constitution.
Author: Irakli Iagorashvili
---
This piece solely expresses the opinion of the author and not necessarily the organization as a whole. Students For Liberty is committed to facilitating a broad dialogue for liberty, representing a variety of opinions. If you're a student interested in presenting your perspective on this blog, send your piece to [email protected], and mention SFL Blog in the email subject line for your chance to be published and be seen!