Meet Yegor, who is 21 years old. Like many of you, he is a college student pursuing a BA in Political Science. He also runs a popular blog where he discusses politics and promotes liberty, and has over 100,000 subscribers on YouTube.
However, unlike most of you, Yegor was born in Russia, a country which historically  has had zero respect for freedom of expression. Today, he is under arrest, facing up to 8 years in prison for participating in a peaceful demonstration in Moscow.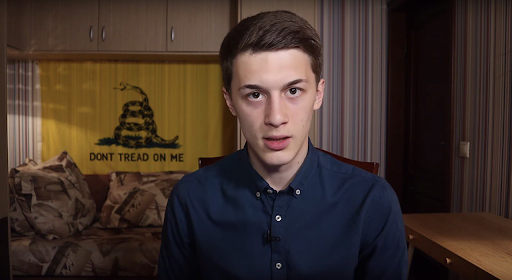 Photo of Yegor Zhukov
In a series of dubious decisions, Russian authorities banned independent candidates from running for the Moscow City Council. On July 27th, over 20,000 people peacefully gathered in Moscow protesting the unfair decision. As a result, over 1,300 were violently detained, and at least 25 were injured by the police.
As a response, the authorities started a mass persecution campaign. Over 150 people have been placed under administrative arrest, including some independent candidates. A member of the Federal Committee of the Libertarian Party of Russia, Mikhail Svetov, as well as the Russian opposition leader, Alexei Navalny, were arrested for participating in a "non-authorized" protest and are now serving a 30-day sentence. 
Talking on TV, Moscow mayor Sergei Sobyanin accused the protesters of "mass rioting." Following the broadcast, 10 people were arrested and charged with participating in the alleged "riots," among them a 21-year-old libertarian activist Yegor Zhukov. According to the Russian Criminal Code, they all face up to 8 years of prison. 
As protests continue, we expect even more activists to become victims of police violence and wrongful prosecution. If you believe that peaceful civil action must not result in persecution, much less imprisonment, please share this message in support of Yegor Zhukov, Mikhail Svetov and other freedom fighters in Russia.