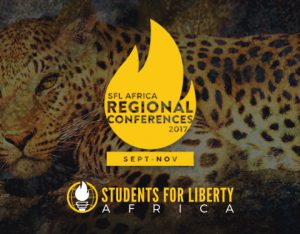 Students For Liberty is the largest student movement for liberty in the world! We are a movement of young advocates for liberty and free markets. This year African Students For Liberty shall host a series of conferences between October and November 2017 with the theme "Creating Wealth through Free Markets" in Kenya, Nigeria, and Tanzania.
The ASFL Regional Conference experience is one of its kind that cannot be matched by any other student organization in the world! They present a weekend long of learning about the classical liberal ideas from the best pro-liberty advocates in Africa, debates by participants, presentations on our achievement in advocating for free markets and liberty this far, networking between participants and socials where you get to make new friends!
No one will move Africa forward except us! It is time to identify the wrongs and make a difference. Join us, and become a member of the Cheetah Generation steering Africa forward through Ideas of Liberty and Free Markets and leading the continent to prosperity.
We have amazing speakers lined up for our conferences this year, whom we shall be announcing soon. The conferences are absolutely free thus no entrance fee including refreshments! SFL swag shall be available to the early birds! Space is very limited, so secure your spot by registering for a conference near you today!
Register for the conference near you below